Blizzard Bike Club – Fort St John
Cycling in the North Peace
The Blizzard Bike Club was started in 1982 and we were incorporated under the Society's Act in 1985. Currently, we are affiliated with the Alberta Bicycle Association (ABA) and the Canadian Cycling Association (CCA).  The switch to the ABA was made in 1997 because the Alberta events are much more accessible to this region.  BC events were too far away making weekend travel impossible.
Generally we have anywhere from 60 to 100 riders listed annually as members which makes the Blizzard Bike Club one of the top three clubs in BC.  We are very active, all year round. For a list of our events visit our Schedule page here.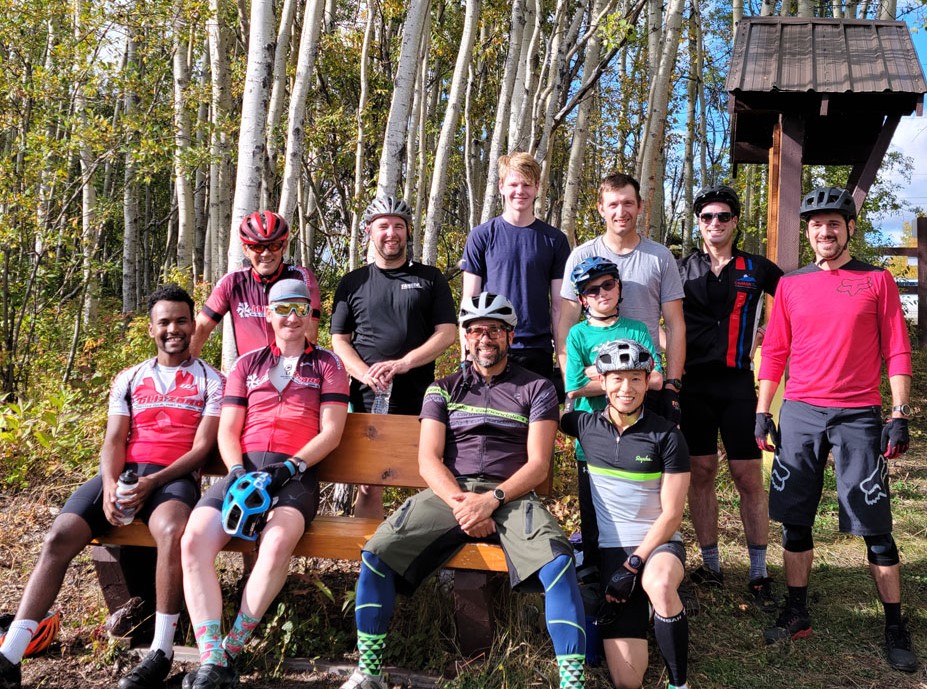 Our registered club colours are red and white and our club jerseys are emblazoned with our logo.  Jerseys are available from time to time.
We have a tremendous amount of expertise available for new riders.  There are club coaches for cycling and triathlons, running, swimming and bike maintenance.
We have been a highly successful racing club over the years.  We have had a number of provincial champions and Blizzard's have also won numerous medals at both the BC Summer Games competitions and BC Seniors' games events.
Terrain For All Types of Riding
Fort St John and area offers some fabulous riding that suites all levels of interest and skill.
Enjoy riding:
Smooth pavement with very little traffic – We got it!
Long hills to test your climbing ability – Got those to!
Off road single track – Oh yeah!
Bike paths for those lazy day rides – Got them too!
Racing and Riding
Our schedule has many different types of rides that will allow you to test your abilities as well as offer you some head to head competition for some challenging riding.
Our club schedule offers:
Fun rides
Road races
Mountain bike races
Time trials
Cyclocross races
Long distance Randonneur events
In house Coaching rides
We can guarantee you that if you come riding with us for a season, you will be a much more confident and skillful rider!